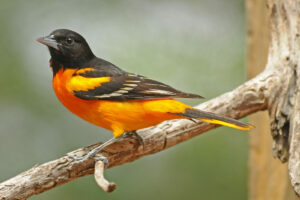 Are you an avid birder? Do you love the sight of a red cardinal perched on a tree limb? Do you enjoy the sound of the pileated woodpecker in the morning? If so, autumn is a great time to attract local birds to your landscape. Learn how you can help the local bird population this fall, and visit American Native Plants to learn more!
Sit Back and Relax
Once the fall season arrives, gardeners are usually inclined to snip the stems of perennials and cut back on their native plants. Did you know that the seed heads of many natives provide nourishment for local birds? Rather than trimming back your natives, allow them to go dormant or wild during the late fall season. Not only will native plants provide seeds, but they will also attract insect larvae that birds need to survive the winter! So go ahead and sit back, relax, and watch Mother Nature do her thing.
Put the Rake Away
You may be tempted to rake all of the freshly fallen leaves away. However, this year, you should consider skipping the task altogether! When leaves rot, they actually enrich the soil and create ideal habitats for creatures such as snails and worms. If your soil is rich with nutrients and insects, birds will be more inclined to visit your landscape! Of course, you can rake the leaves if you wish, but consider leaving a patch of leaves in the corner of your landscape. This patch can serve as a microhabitat for bugs and birds.
Avoid the Chemicals
Landscape specialists might recommend a series of fertilizers to promote grass health. However, fertilizers and other chemicals can harm the local bird population. One of the benefits of native plants is that they don't require assistance from fertilizers or chemicals. This fall, consider using natural materials like grass clippings and organic mulch to assist your native plants! If you are planting trees this fall, mulch discs provide essential protection and nutrients to your newly planted tree. If you have more questions, visit American Native Plants!
VISIT AMERICAN NATIVE PLANTS
Whether you're looking to build a rain garden or beautify your property, American Native Plants can provide you with the right plants for the job. With an inventory of over 400,000 native trees, native shrubs, and herbaceous plants consider American Native Plants, your one-stop shop for wholesale native plant needs.
Our nursery, conveniently located in Middle River, Maryland, is open year-round to accommodate your native plant needs. We are continually updating and increasing our inventory to meet the demands of our customers.
Peruse our catalog, give us a call, and follow us on Facebook and Twitter!