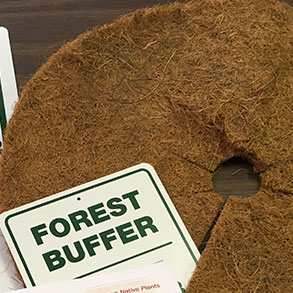 Are you planning a native plant project for the fall season? Even though the temperature is dropping, there is still plenty of time left to complete a native plant project! In addition to ordering the proper plants, you will also need a variety of hardgoods to ensure the success of your project. Learn more about the essential hardgoods for the job, and visit American Native Plants for more information! 
Protective Signage 
Many environmentalists turn to native plants for their restoration and landscaping projects. Whether you're restoring a local wetland or improving a nearby landscape, protective signage is used to enforce boundaries and protection. American Native Plants carries a variety of signage options, from plastic screen-printed signs to aluminum materials and custom designs! The fall season is a great time to plant a tree! Protect newly planted trees with highly visible signage. 
Tree Shelters 
Generally, fall is the best time to plant a tree. Ensure that you plant young trees before the ground begins to freeze. While you can still plant trees during late October, it's important to record the temperatures of the soil before you plant. If the soil is too cold, you may want to save your planting projects for the spring season.  When you do plant a tree, protect it with a tree shelter. Tree shelters from American Native Plants are photodegradable and come with wood stakes and cable ties for ample support. Our shelters can be modified to accommodate newly planted trees of varying sizes. 
Mulch Discs 
Native trees, shrubs, and plants require mulch to thrive. Rather than overspending on excessive mulch bags, consider mulch discs from American Native Plants! Our mulch discs are constructed from durable coconut fibers and made to fit easily around your plants. Not only are our mulch discs available in a variety of sizes, but they also last for multiple years! Purchasing mulch discs now means that you won't have to do so when you're preparing for spring planting. Whereas traditional mulch can require hours of labor, mulch discs are easy to apply and maintain! 
VISIT AMERICAN NATIVE PLANTS
Whether you're looking to build a rain garden or beautify your property, American Native Plants can provide you with the right plants for the job. With an inventory of over 400,000 native trees, native shrubs, and herbaceous plants consider American Native Plants, your one-stop shop for wholesale native plant needs.
Our nursery, conveniently located in Middle River, Maryland, is open year-round to accommodate your native plant needs. We are continually updating and increasing our inventory to meet the demands of our customers.
Peruse our catalog, give us a call, and follow us on Facebook and Twitter!