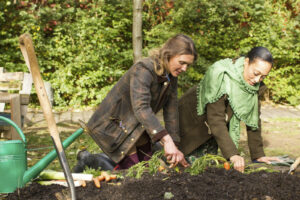 November is finally here, and native plant gardeners have a series of new tasks to complete this month! While some of your natives have gone dormant for the season, others still require maintenance to thrive throughout winter and spring. Prepare your landscape for the colder months ahead, and discover five gardening tasks to do this November! 
Tend to Shrubs 
November is an excellent time to plant or transplant shrubs. If your soil temperatures have not dipped below 50 degrees Fahrenheit, you still have time to plant native shrubs. Soil temperatures below 50 degrees can slow germination and delay seedling emergence. Take the temperature of your soil before you begin your project to ensure that the ground is still warm enough for planting. If you plant or transplant shrubs, cover them in a thick layer of mulch to protect them from frosts. 
Pull Weeds 
Weeding throughout the fall months may reduce the spread of weeds come springtime. Weeding is a simple task when the weeds are caught early. If you allow weeds to grow throughout the seasons, they will be more difficult to pull during the next planting season. 
Lawn Maintenance 
Tending to your lawn now ensures that it's healthy to survive the harsh winter conditions. Rake the leaves as you please, but consider leaving a few unraked piles to encourage biodiversity. You may also mow over the leaves to turn them into mulch. Do not use harsh chemicals on your lawn at this time, as you may harm native plants and local species. 
Compost 
Dead leaves and decaying plants can be converted into organic material through compost. November is an excellent month for composting. Choose a small area in a sunny area to maintain the warmth of the compost section during fall and winter. Composing your leaves is a great way to protect air quality and reduce the threat of wildfires.  
Maintain Trees
If you planted trees during the fall season, ensure that you're properly maintaining them during the month of November. Protect newly planted trees with tree shelters, mulch discs, and other hardgoods from American Native Plants! 
VISIT AMERICAN NATIVE PLANTS
Whether you're looking to build a rain garden or beautify your property, American Native Plants can provide you with the right plants for the job. With an inventory of over 400,000 native trees, native shrubs, and herbaceous plants consider American Native Plants, your one-stop shop for wholesale native plant needs.
Our nursery, conveniently located in Middle River, Maryland, is open year-round to accommodate your native plant needs. We are continually updating and increasing our inventory to meet the demands of our customers.
Peruse our catalog, give us a call, and follow us on Facebook and Twitter!