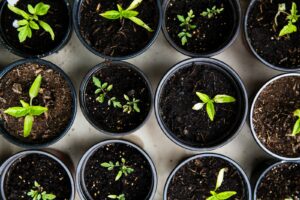 As we head into November, the soil temperatures and outdoor conditions become too harsh for planting or relocating natives. Although the temperatures are dropping, there are still plenty of tasks to complete before your native plants enter winter dormancy. Discover how you can continue to care for your native plants during the off-season and call American Native Plants for more information! 
Tend to Seedlings 
Native plants are naturally resilient to harsh temperatures, which is one of their biggest benefits. During the winter months, their seeds absorb moisture and freeze. Once the weather breaks and spring arrives, the seeds begin to thaw and prepare for germination. To ensure that you have plenty of seeds for spring planting, start collecting them now. Place them in a tray or container equipped with ventilation and drainage. Fill the containers with seeding mix, cover them, and store them next to your winter garden. This process will reduce the number of seeds picked off by winter foragers. 
Think Ahead 
In this blog, we often discuss the importance of planning and preparation. One of the most important tasks you can complete during the off-season is planning your spring garden. The seeds will respond naturally to spring weather, but it's up to you to ensure that they can adapt quickly to the changing seasons. Consider where you will decide to transplant the seedlings once they grow sturdy roots. Now is a good time to decide whether you will plant the young plants in the garden, landscape, or in pots! Once you make a plan, you can order the necessary hardgoods, tools, and plants for your projects. 
Ask an Expert 
While native plants may share many similarities, no two are alike. Before you start tending to natives or seedlings, consult an expert about the particular species you're working with. The professionals at American Native Plants can help you with your off-season projects. Are you ready to start planning your fall projects? Now is a good time to start! Visit American Native Plants or shop the selection online to choose your spring lineup. 
VISIT AMERICAN NATIVE PLANTS
Whether you're looking to build a rain garden or beautify your property, American Native Plants can provide you with the right plants for the job. With an inventory of over 400,000 native trees, native shrubs, and herbaceous plants consider American Native Plants, your one-stop shop for wholesale native plant needs.
Our nursery, conveniently located in Middle River, Maryland, is open year-round to accommodate your native plant needs. We are continually updating and increasing our inventory to meet the demands of our customers.
Peruse our catalog, give us a call, and follow us on Facebook and Twitter!