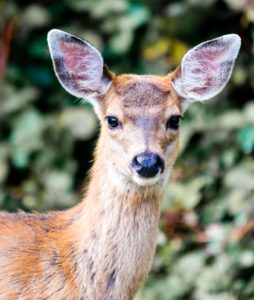 Have you noticed more deer wandering around lately? The deer breeding season runs from October through early January, and during this time, they are habitually spotted in areas throughout North America. Depending on where your property is located, you may spot deer grazing on your native plants in the early morning hours. Rather than turning to chemical deterrents, discover how you can discourage deer from your natives with natural methods. 
Install a Fence 
If you want to protect your native plant garden from deer, consider installing a fence around the perimeter of the area. A white-tailed deer can jump almost eight feet high, so keep that in mind as you select a fence design. If a local ordinance forbids you from installing a large fence on your property, a shorter, solid fence may also deter deer from the natives. If you would prefer not to commit to a permanent fence, consider a temporary fencing option! 
Odor Deterrents 
Deer find certain smells offensive, and they will choose to avoid the affected area. Many odor deterrents lose their potency after a few days, so you will have to replace them when necessary. Common deer deterrents include mothballs, garlic, and hair. Deer are also deterred by culinary herbs such as mint, thyme, oregano, dill, chives, and tarragon. Homeowners can disperse these herbs throughout their garden as a natural deterrent. 
Make Noise 
One of the best aspects of using natural deterrents is that you won't harm the deer. Many chemicals, such as sprays, can be harmful to deer and other local species. Deer are easily skittish and will run away quickly if they hear loud noises. Whistles, windchimes, and other noisemakers are excellent ways to deter deer without harming them. 
Scare Tactics 
As mentioned above, deer are easily skittish. Noise is an excellent scare tactic, but you can also turn to other methods such as flashing lights. No matter what scare tactic you choose, remember to keep the safety of the deer in mind. It's essential to recognize that some scare tactics are harmful to deer. Acceptable scare tactics include reasonably loud noises, flashing lights, and sprinklers. 
VISIT AMERICAN NATIVE PLANTS
Whether you're looking to build a rain garden or beautify your property, American Native Plants can provide you with the right plants for the job. With an inventory of over 400,000 native trees, native shrubs, and herbaceous plants, consider American Native Plants, your one-stop shop for wholesale native plant needs.
Our nursery, conveniently located in Middle River, Maryland, is open year-round to accommodate your native plant needs. We are continually updating and increasing our inventory to meet the demands of our customers.
Peruse our catalog, give us a call, and follow us on Facebook and Twitter!