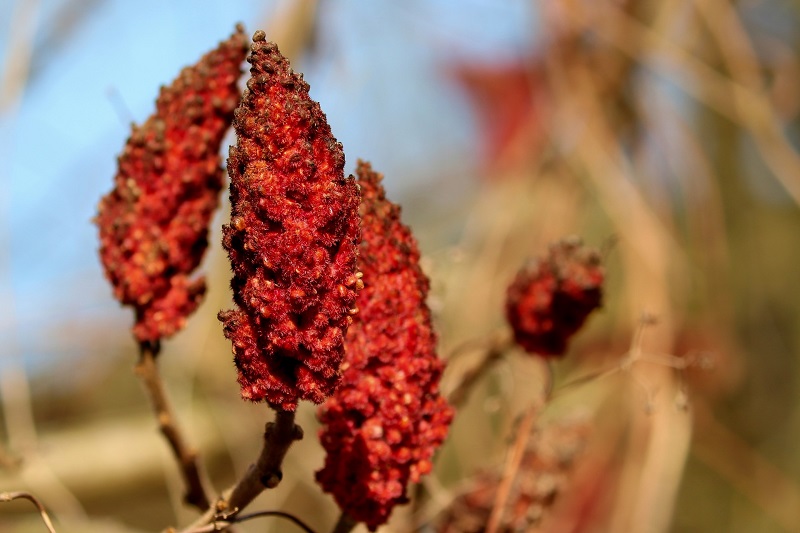 If you're looking for some natural beauty amid the dead of winter, you can find these native plants of the Chesapeake Bay region and admire their remarkable appearances. They thrive during the winter seasons, so you are catching them at their most beautiful. To admire these native Chesapeake Bay plants this season, you can go on a scavenger hunt for them or purchase seedlings available at American Native Plant's nursery. You can plan on planting them this spring, so you have them in your yard next winter, brightening your landscape and providing food and shelter for wildlife year-round. 
Witch Hazel (Hamamelis vernalis and Hamamelis ovalis)
Two varieties of the witch hazel shrub flower in late winter. The extracts found in this small plant's bark and leaves help to shrink blood vessels back to normal size. The extract of this native Chesapeake Bay plant is used in medicines and creams that treat insect bites and bruises! 
Inkberry (Ilex glabra)
The inkberry shrub's purplish-black berries persist through winter and help to feed native wildlife. Raccoons, coyotes, and opossums will eat the berries when other foods are scarce, and at least 15 species of birds rely on this plant. 
Winterberry (Ilex verticillata)
This native Chesapeake Bay plant is an excellent addition to the landscape, as it is easy to grow and is not susceptible to many pests or diseases. The bright red berries stand out in winter snow and look beautiful in holiday arrangements. They provide excellent nutrition for winter wildlife, but they are poisonous to humans!
Northern Bayberry (Myrica pensylvanica)
The population of yellow-rumped warblers relies heavily on the berries of the Northern Bayberry, which have a waxy, light blue-purple coating. When the leaves of this deciduous plant are crushed, they give off an intriguing spicy scent, and the oil from the leaves is used to scent many products. 
Staghorn Sumac (Rhus typhina)
You can identify staghorn sumac by its pointed cluster of red fruits. These fruits last through winter and into spring. Staghorn sumac is excellent for new gardeners, as it can thrive in a variety of conditions. 
Southern Arrowwood (Viburnum dentatum and Viburnum recognitum)
The native Chesapeake Bay plant southern arrowwood is a year-round beauty, with furry white flowers in the summer, dark red foliage in autumn, and blue berries in winter. The shrub prefers well-drained soil to grow in and will make a pleasant year-round addition to any garden. 
Yellow Birch (Betula alleghaniensis)
Yellow birch trees are a native Chesapeake Bay plant that smells like winter. When the twigs scrape together, they give off a subtle wintergreen scent. 
Every native Chesapeake Bay plant in this list is currently listed in American Native Plant's catalog. Stop on by, and see what native plants can do for your garden! 
VISIT AMERICAN NATIVE PLANTS
Whether you're looking to build a rain garden or beautify your property, American Native Plants can provide you with the right plants for the job. With an inventory of over 400,000 native trees, native shrubs, and herbaceous plants, consider American Native Plants, your one-stop shop for wholesale native plant needs.
Our nursery, conveniently located in Middle River, Maryland, is open year-round to accommodate your native plant needs. We are continually updating and increasing our inventory to meet the demands of our customers.
Peruse our catalog, give us a call, and follow us on Facebook and Twitter!